MorbidMoshAttack is a four piece d.i.y. metallic hardcore punk ensemble from the Ruhr area and Cologne in western Germany.
We're always looking for shows, so if you can provide food, booze, gas money and (if necessary) places to sleep, don't hesitate to get in touch with us, unless you are a rightwing scumbag.

                                








upcoming shows:
2019-01-11 Wermelskirchen at AJZ Bahndamm with Victims, Svalbard 2019-23-11 Hannover at Kopernikus with Toadeater 2019-27-12 Köln at somewhere with Aargh Fuck Kill
MorbidMoshAttack - Used Up 7"
Used Up features five songs on a 7" which we have recorded in a live session in Spring 2018 and is released with the kind support of Senjaga Records.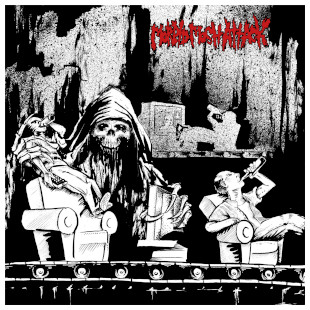 MorbidMoshAttack - s/t 10"
You can purchase this record (seven tracks on black vinyl + 12page booklet & sticker for 8,50 Euro) at our shows. Or we go postal - just drop us a line and we figure something out together.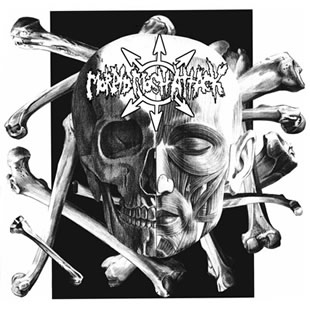 past shows:
2019-01-10 Köln at Halle am Rhein with Snake Tongue 2019-21-09 Mülheim at AZ Fest 2019-14-09 Freiburg at Schattenparker, Diesel n Dust 2019-06-09 Köln at BWP "schöner wohnen" with Matrak Attak 2019-24-08 Berlin at On Fire Festival 2019-23-08 Hamburg at Semtex Eröffnungsfeier with FaustXBein, Zoketes, Roim&Stroi&Fahrzoige 2019-09-08 Hövels at Siegnthal Sommerfest 2019-08-06 Zruc Nad Sazavou at Pallasit Fest 2019-30-05 Peine at UJZ, Himmelfahrtskommando 2019-29-05 Münster at Baracke with Matrak Attakk 2019-04-05 Schwerte at Rattenloch with Extinction of Mankind, Powerage &Bass+ards 2019-18-03 Groningen at Bambara with Hak Attak 2019-17-03 Liege at HTH with Matrak Attakk & Hak Attak 2019-16-03 Dortmund at Privat with Stress Test 2019-15-03 Hannover at Stumpf with Organa, Moder & Abest 2019-14-03 Leiden at cab03 with Toprot & Downtown District 2019-13-03 Utrecht at Bikewars Squat with Ratio Zero 2019-08-02 Köln at bwp "wem gehört die welt" with Doxa, Chupacabra & Rainbow Dash 2019-09-03 Nancy with Doxa, Psychrophore & Garrrot 2019-26-01 Hannover at UJZ Korn with Sarkast & Slam Harder 2018-07-12 Aachen at AZ with Inkasso Moskau & Mardröm
2018-27-10 Wuppertal at AZ with Ruina & Convince
2018-05-10 Troisdorf at JKZ - 25 Jahre unbeugsam, ein viertel Jahrhundert SJZ!
2018-29-09 Köln at BWP Schöner Wohnen - Sommerfest
2018-11-08 Hamburg at Menschenzoo with Scooter Kids Must Die & Testbunker
2018-22-06 Köln at Halle am Rhein with End of Ernie & Doxa
2018-23-06 Coesfeld at Pampa Berkelterror Fest
2018-04-05 Schwerte at Rattenloch, with Alteri & 1st Class Collapse
2018-21-05 Köln at Schöner Wohnen, with Gränslandet & Alteri
2018-26-05 Münster at Baracke with INotDance & Teryky
2018-14-04 Witzenhausen at The Club with No Sun Rises
2018-28-03 Bremen at Sielwallhaus with Sewer Brigade
2018-24-03 Berlin at Abstand with Colera Tarantula & Bluthuf
2018-23-03 Duisbrug at Djäzz with Cruelist & Redemptus
2017-01-11 Schwäbisch Hall at Club Alpha with Attack of the Mad Axeman
2017-01-09 Groningen at Bambara wihtout Mugring
2017-24-08 Köln at Halle am Rhein with Alteri, Partiya
2017-05-08 Hamburg at Rondenbarg ROA
2017-24-03 Köln at Sonic Ballroom with Conflict
2017-06-05 Köln at Limes with Revaged
2016-17-09 Siegen at VEB with Mann kackt sich in die Hose, Youth Avoiders, LMDA, Stalled Minds
2016-29-10 Aachen at PRIVAT with Human Waste, By brute Force & Karma Crash
2016-12-08 Muelheim at AZ with Hostiliter
2016-17-06 Muelheim at AZ with Imaginary Dictionary & Toxic Shock
2016-11-06 Nancy at 103 with Phobos & GKY
2016-27-03 Nuernberg at Kunstverein - South Noise Attack IV with
Mörkhimmel
,
The Gash,
Gewoon Fucking Raggen,
Zärschmättärling,

Trakoma &
Disanthrope
2016-26-02 Koeln at Bauwagenplatz Wem gehoert die Welt with Inkasso Moskau & 7 Year Itch
2016-30-01 Troisdorf at JKC with KSM40 & Sirens of Crisis
2015-14-12 Koeln at Bauwagenplatz Schoener Wohnen with Fritzl Kids & Trigger
2015-05-12 Hamburg at Villa Dunkelbunt with Sailor's Fist
2015-04-12 Bremen at Friese with Auweia! & Thrashing Pumpguns
2015-24-10 Giessen at AK44 with
2015-26-09 Muenster at Baracke with Cruel Friends
2015-25-09 Augsburg at Ballonfabrik - Never too old to pogo Festival with Cause Of Divorce, Distress, Warfare & EU's Arse
2015-04-09
Duisburg at Rheinpark with Los Gringos & Ameise
2015-04-07 Schwaebisch Hall at Alpha Club 60 with Geraniüm & Spitting Nails
2015-06-06 Recklinghausen at PRIVAT with Cause Of Divorce
2015-09-05 Dueren at Multikulti with Sirens of Crisis, Kellys Revenge, Salt & We Are Dust
2015-08-05 Gent at Crust Picnic #2 (t'Landhuis) with Simbiose, Krush, Crustenunie & Altered State
2015-20-03 Wuppertal at AZ with Krush & Eiter
2015-31-01 Bergisch Gladbach at UFO with Serpent-Eater, Groll & Brecht
2014-20-12 Bremen at Friese with Profit And Murder & Sarkast
2014-19-12 Witzenhausen at The Club with Irrlicht & les Pünks
2014-08-11 Muelheim at AZ with Instinct Of Survival & Nasty Pack
2014-03-10 Recklinghausen at PRIVAT with Sirens Of Crisis
2014-17-08 Hengelo at Innocent with Harry & Derbe Lebowski
2014-13-06 Muenster at Wagenburg with Irrlicht & Banque Allemande
2014-07-06 Berlin at Koepi's Carnival Of Subcultures with Totenwald, Golden Cocks, Feromil, Patsy Stone & Grrzzz
2014-06-06 Leverkusen at KAW with Paratyphus, Antima Kalpa, Graben & Aesteskalp
2014-12-04 Giessen at AK 44 with Jack & Aesteskalp
2014-11-04 Siegburg at SJZ with Kannibal Krach & The Aftermath
2014-15-01 Koeln at Bauwagenplatz Wem gehoert die Welt with Unrest & Auweia
2014-12-02 Muelheim at AZ with Entrails Out! & Static Void
2013-14-12 Recklinghausen at AKZ with Braindead & Henri Parker
2013-19-10 Enschede at The Loch with Serpent Eater & Necromorph
2013-05-10 Solingen at Em Kotten with By Brute Force & Human Waste
2013-24-05 Wuppertal at AZ with Komatoz
2013-02-03 Leverkusen at KAW with Minutes & Kezza

2012-10-11 Schwerte at Rattenloch with Cause Of Divorce & Breed Of Bacchus
2012-02-11 Koeln at Bauwagenplatz Schoener Wohnen with Serpent Eater, Groll & Church Of Cycology
2012-12-10 Siegen at VEB with Sanitys Dawn & Harmony Sea
2012-09-10 Enschede at The Loch with KlikoKommando & Post-War Perdition
2012-30-06 Wuppertal at AZ with Moribund Scum
2012-07-06 Aachen at AZ with Embers
2012-08-05 Dortmund at UntenLinx with Fertil Miseria
2012-30-04 Koeln at Bauwagenplatz Schoener Wohnen with Bad Reputation

2011-20-05 Wuppertal at AZ with Hibernation
2011-21-04 Hengelo at Cerberus with Human Error & ß-Caroteen
2011-08-04 Limburg at Kakadu with Ruins & LoveChannel

2010-11-12 Koeln at AZ with Downfall Of Gaia & Henry Fonda
---